Michael Moon's Annual Sound Healing Retreat
August 19 @ 7:00 pm

-

August 21 @ 3:30 pm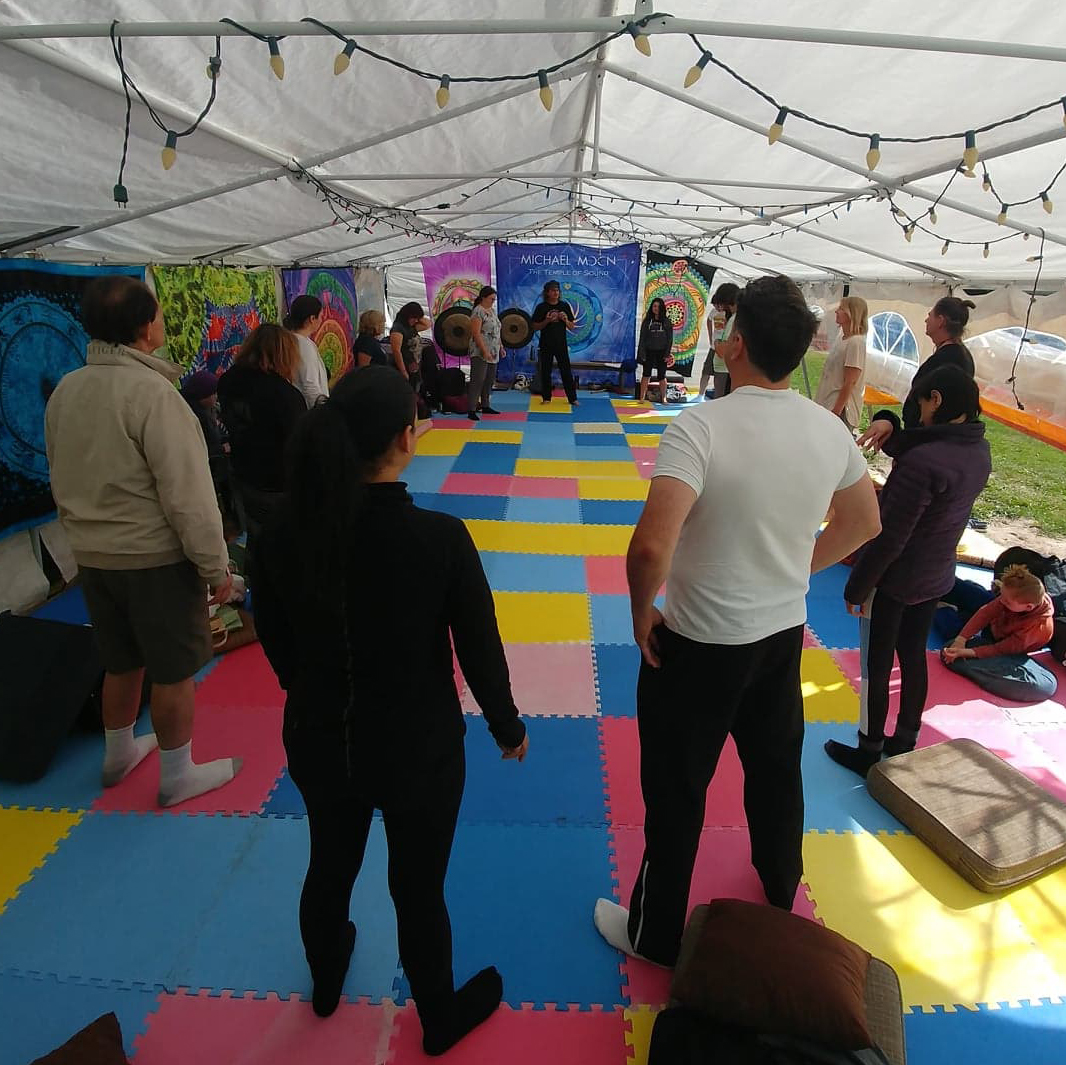 Come spend a magical weekend with me and learn about sound healing, the magic of music and the amazing healing potential of your own voice. Experience this fun filled and evolving annual workshop in the stunning natural setting of Unicamp which is nestled in a beautiful area of the Niagara Escarpment. The land here features wonderful swimming in a clear spring fed 5 acre pond, hiking the Bruce trail and scenic caves.
We will share playful, simple, yet powerful exercises to harmonize our physical well-being, emotions and our connection to spirit. Instruments (crystal bowls, gongs, guitars, drums, xylophone) are also incorporated but not necessary for we will be focusing a lot on the healing power of our own voices. This weekend is not about musical talent. Anybody can participate, though musicians will find powerful tools to deepen their experience of music making.
The weekend includes a special concert with Michael Moon on Saturday night.
The program this year will be respectfully accommodating covid protocols to make it a safe space for all to enjoy healing, sound and nature.
Past participants have shared:
'The best workshop of its kind!'
'So much fun and very relaxing'
'An amazing experience!'
'My cancer went into complete remission after the workshop and regular use of these exercises. My doctor calls it a miracle!'
Cost is the unbelievably affordable, $110 plus camping (or bring your own food)
Camping is about $30 per night (plus $5 any extra person)
Contact Unicamp to register and for accommodation and meal details. Special diets are accommodated.
Direct contact for the camp is 519.925.6432. The office is open between 9:30 am -12pm and 1-4pm if no answer leave a clear message and they will get back to you. Or email…
Contact me, Michael Moon for workshop details and any questions at:
thetempleofsound@yahoo.com
416-466-9513
Here is a map of the location
https://www.google.com/maps/place/Unicamp+of+Ontario+Incorporated/@44.2142071,-80.2378653,12z/data=!4m5!3m4!1s0x882a5eb8e22f1bd3:0x948dd86220b8ddd0!8m2!3d44.2142033!4d-80.1678221
It is a lovely drive up airport road about 1hr 45 minutes from Toronto. Getting there you do need a car for there is no easy bus service except to Orangeville and a cab from there. If you are going and have room in your car for others that could help with your gas let me know in case there are people who need a ride.
Thank You!
Here is the basic schedule of the retreat
Friday August 20

I recommend coming up and spending as much of the day as possible on this wonderful land before we begin. Swimming, hiking the trails and tuning in. I would suggest you take a quiet wander through the land holding an intention for the weekend about something you want to work on or heal. As you do this take note of any little signs in nature that pop out to you. Listen to the sounds, experience the little details in the flora and fauna. Nature often brings messages. (If you can't come early maybe you'd want to stay later Sunday)
7:00 Dinner
7:30 We Gather at the dining hall for the camp details, welcome and finding each other.
8:00-10:30 We move to pond fire circle where we will have a fire, connect to the group and quickly move into fun and simple sound play leading to a drum and sound circle around the fire. (If it happens to rain, which it won't, we will be in the program center)
Saturday Aug 21

8:00 breakfast
9:00-12:00 beginning to understand and play with the voice as a healing tool.
12:30 lunch
1:30- 3:00 beach/ nature time
3:00- 6:00 shamanic sound work, sound healing for each other, Ho'o'ponopono
6:30-7:15 dinner
7:30 concert with Michael Moon and friends
8:30 There is a fun dance put on by the camp or you can hang out at a camp fire or wander off to gaze at the stars…or if you are in a deep healing space off to meditate and sleep…
Sunday Aug 22

8:00 breakfast
9:00-12 final session together
12:30 lunch
After lunch the scheduled program is finished and you are free to go for a swim, hike, play music at the beach, or possibly explore the caves…